News/
Angelina Jolie and Son Pax Arrive at JFK Airport With Giant Stuffed Animal in Tow—See the Pic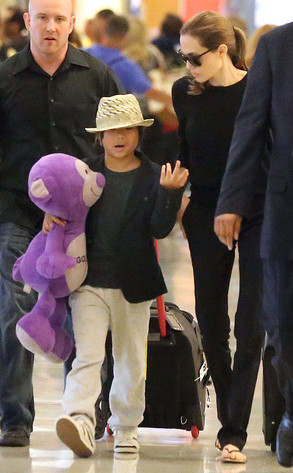 by Brett Malec
Angelina Jolie
and her son
Pax
arrived at JFK airport in NYC recently with a special (and familiar!) friend in tow.
The actress and
Brad Pitt
's 9-year-old was snapped carrying a giant purple stuffed animal as they traveled together.
Jolie, dressed in black pants, black shirt and sunglasses, walked alongside Pax through the airport as he carried his purple pal.
PHOTOS: World War Z movie pics
Pax looked fashionable in tan pants, dark shirt and coat and fedora hat.
This isn't the first time we've seen Pax with his fluffy friend. While
landing down in South Korea
for Pitt's
World War Z
premiere there the other week, Pax also held his stuffed animal close as they left the local airport.
Nothing like a soft toy to make those long flight more comfortable!